12 women and 62 men from 7 countries have registered for last Oly Bet Baltic Pool League qualification event which will take place 5-6 of October in Kaunas, Lithuania. Billiard club "Entry" is hosting biggest baltic league qualification event this year.
Women's draw is not done yet since there is still a hope that Katarzina Wiesolowska will make a last minute call. However time is ticking and final timing for registration is 11:00 am tomorrow. After that we make women draw and announce it.
In men's field 9 out of best 10 ranked pool players are taking part in fourth BPL event and that means we are going to watch lots of good matches. The draw is ready and announced on tournamentservice.net
One pool table will be streamed through all the tournament. But the most important thing is that women's and men's finals will be recorded and shown through Lithuanian sports portal www.sportotv.lt. Therefore Sunday skip your lunch and enjoy the pool at 1:00 pm.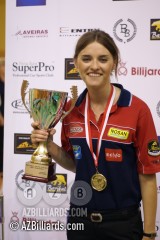 Last weekend completed the second stage of the Olympic-Online Baltic Pool League 2013 and the game was 10-ball. The location was the beautiful town of Ketrzyn in Poland. The Polish players were really in form in both the mens and women's divisions by winning 6 out of 8 medals and among them both brightest medals. In mens division Piotr Kudlik took the gold and in the women's division Katarzyna Wesolowska accomplished the same. Another significant fact was the number of participants on this event. We scored a record high 138 players.
This weekend was held the IV stage of Olympic-Online Baltic Pool League 2012. The venue was Baribal Poolclub in the centre of Tallinn, Estonia, and the game was 8-ball. In mens division the weekend did not produce any surprises as Denis Grabe (Team Olympic-Online) claimed another stage victory. In women's division it was Anna Prisjaznuka from Latvia that claimed the title.