The winners of Latvian BPL stage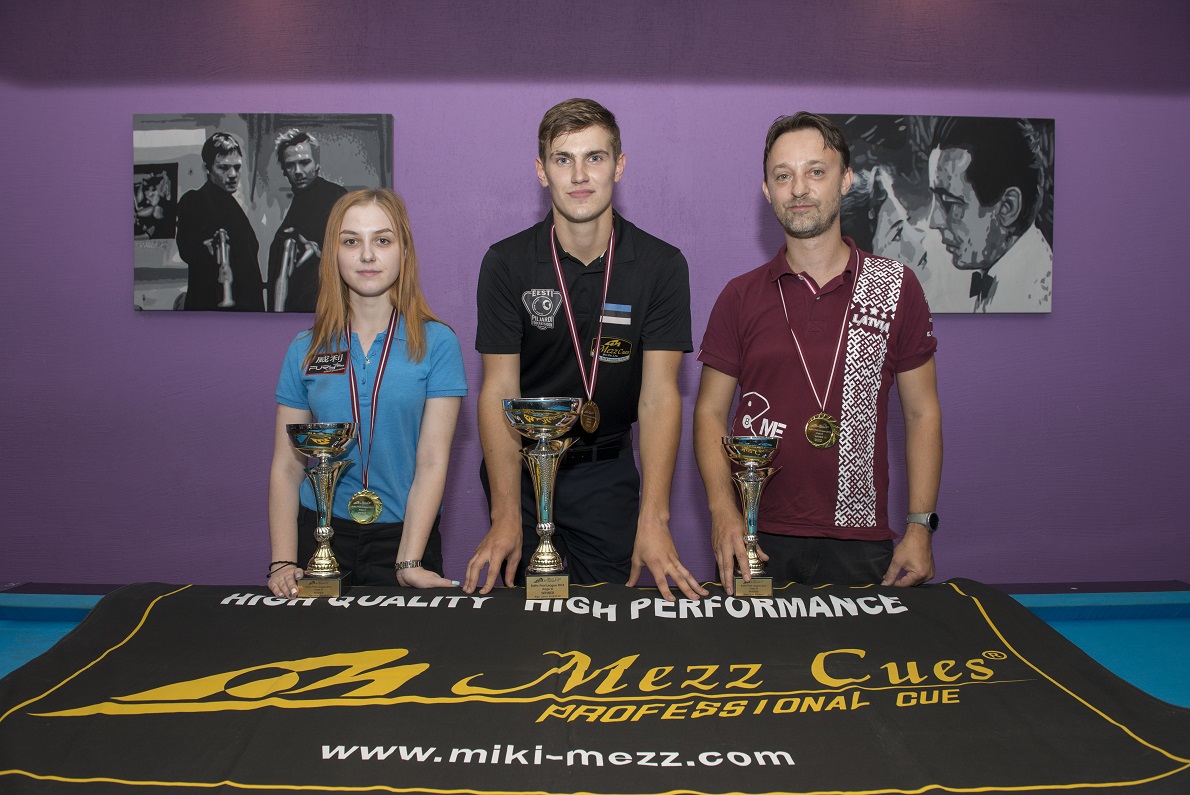 Mezz Cues Baltic Pool League 2018 third stage was held in the Latvian capital Riga. The host for the event was Bams Pool House. The winners of the third stage were Mark Mägi (EST), Yana Shut (BLR) and Guntars Grinums (LAT).
Mägi made his corrections
Mägi was second not only on the last stage but second in the last years Riga stage as well. Similarly, to the before mentioned stages, Mägi got some serious opposition this time too. In his semi-final, he faced Timofey Sereda (BLR) and he managed to nearly escape when the final score was 8:7. Everything seemed to be under control in the final as well as Mägi got a comfortable 5:0 lead against Joonas Saska (EST). However, Saska did not want to follow Mägi's plan and the comeback started which lead to 6:5 for Mägi. Regardless of Saska's serious fightback, Mägi did claim the win by 8:6.
Another semi-finalist was Vilius Ebbert-Schulte from Lithuania who lost to Saska by 5:8.
After the third stage the men's overall ranking is very intriguing as the top eight is within eight points with Mark Mägi first, Joonas Saska second and Pijus Labutis third.
Belarusians dominated the women league
The Belarusians showed their domination in the women's division as they snatched the first three places. The all Belarusian final was held between Yana Shut and Anastasiya Kosareva. Similarly to her semi-final against Tana Lace (LAT) Shut did not leave a chance for Kosareva. Shut dominated the semi-final 7:0 and the final 7:2. Kosareva did not leave many chances in her semi-final to another Belarusian Milena Murga as she crashed her 7:1.
Despite the Belarusians success on the Riga stage, the women's division has two clear leaders, Simona Milisauskait (LIT) leading by a point ahead of Kateryna Polovinchuk (UKR).
The hosts' success in Oldboys division
The old boys division was a copy of the women's division as three of the first four were Latvians. The winner Guntars Grinums controlled his semi-final as he defeated Oled Demjanov (LAT) 7:4 and did even better in the final against Genadijs Kaminskis when he bagged a firm 7:3 victory. Kaminskis was responsible for all Latvian final as he was better of Petteri Karapuu (FIN) 7:4.
The Oldboys overall standing has some spark in it as well as the first four place within five points, Petteri Karapuu first, Guntars Grinums second and Gatis Taube third.
Success in Riga continues
Riga has been one of the most successful venues throughout the years and this year was no exception. Overall 113 players from Belarus, Estonia, Finland, Latvia and Lithuania is a very good proof of that.
The organisers thank all the athletes, volunteers, fans and all other people and companies that were part of another enjoyable event. Big gratitude goes out to all the sponsors – Mezz Cues, Aramith, Iwan Simonis, Kamui, Aveiras, Turtle Rack Sheet, Entry, Bams Pool House, Hill Hill Pool Club and Musta Kasi.
For further information please visit our web page www.balticpoolleague.eu
and Facebook www.facebook.com/balticpoolleague.