MEZZ CUES BALTIC POOL LEAGUE 2019 TALLINN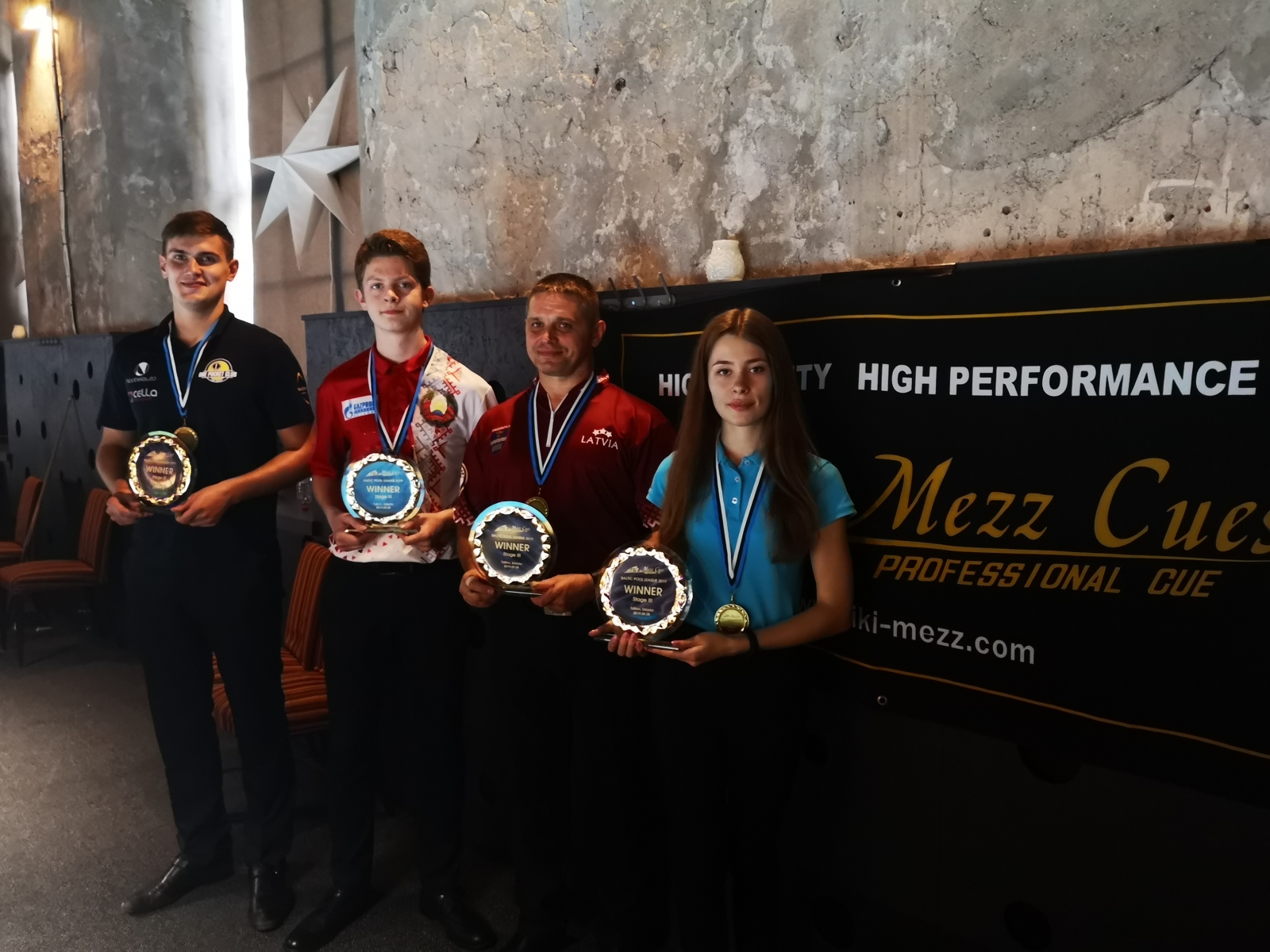 The third stage of Mezz Cues Baltic Pool League 2019 was held in a sunny Tallinn. The host of the main event was an amazing Hill-Hill pool club. Due to the high number of athletes, the first stages of U15 were held in Hill-Hill 2 pool club. This time was 9-ball on the menu. The men division was won by Mark Mägi (EST), women by Valeria Popova (RUS), old boys by Genadijs Kaminskis (LAT) and U15 by Andrei Adziarykha (BLR).
Mägi to another stage win
The final between Andrey Seroshtan (RUS) and Mägi promised to be a close match as Seroshtan has won over Mägi 7:5 in the second round of the stage. As expected, it really was a very tense match where Mägi managed to pocket the last nine and secure a hard-fought 8:6 final win. In their semi-finals, both players did not really have many headaches as Mägi won over Vladislav Shopik (BLR) 8:2 and Seroshtan sailed through his semi-final with a comfortable 8:3 win over Mihkel Rehepapp (EST).
Popova showed her class
In her semi-final, Popova was up against none other than the last stage winner Viktoria Gurova (RUS). Popova was able to control the match in the later stage and take the title by a score 7:5. In the final, she had to win Lyubov Kazachenko (BLR) who has won over this year's first stage winner Olga Mitrofanova (RUS) 7:4. However, Popova did not have much trouble as she took the title by 7:3.
Kaminskis shines again
As one of the most consistent player on the tour Kaminskis was on the podium again and this time it was another gold for him as he won on hill-hill against Petteri Karapuu (FIN). In the semi-final Kaminskis was better of Tana Lace (LAT) 7:4 and Karapuu had no trouble against Ivo Ulmanis 7:1.
Adziarykha on top in U15
Adziarykha showed his dominance in the U15 division as he won the final against Sander Kont (EST) 4:0 and in the semi-final he left not much chances for Illimar Ventsel (EST) 4:1. Kont was dominating his semi-final as well as he won 4:0 against Revo Maimre (EST).
Great event in Tallinn
The total number of 138 participants says it all, it was another successful event. Hereby goes out big applause to Hill-Hill and Hill-Hill 2 billiards club management and employees that made it possible to organize the event for that many players.
This time the following countries were represented: Belarus, Estonia, Finland, Latvia, Lithuania and Russia.
The organizers thank all the athletes, volunteers, fans and all other people and companies that were part of another successful event. Big gratitude goes out to all the sponsors – Mezz Cues, Aramith, Iwan Simonis, Kamui, Aveiras, Turtle Rack Sheet, Arena Billiards Club, Bams Pool House, Playpool Billiards Club, Hill-Hill Pool Club.
For further information please visit our web page www.balticpoolleague.eu and Facebook www.facebook.com/balticpoolleague.